Publisher's Note
Like everyone I wanted to curtail the spread of COVID-19. I hated that it was controlling me, my loved ones and the world around me. I wanted to protect the community I call home and join my neighbors around the world in kicking the ass of this deadly virus by flattening the curve. Doing my part in contributing to this lifesaving cause through quarantine and practicing social distancing was my war cry and the war cry of the publishing family here at Media Services. The documentary you are reading has been published by a team that was in quarantine since the beginning of COVID-19.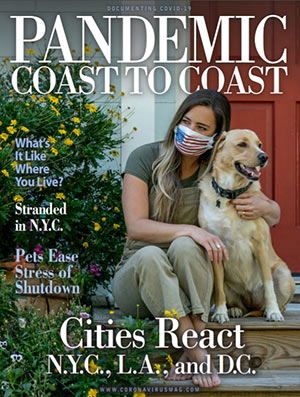 From the COVID-19 Timeline
–
JAN 30
– The World Health Organization declares the outbreak of a global public health emergency as more than 9,000 cases are reported worldwide…
–
FEB 24
– The National People's Congress of the People's Republic of China prohibits illegal wildlife trade and to eliminate the abuse…
–
MAR 11
– The World Health Organization declares the COVID-19 outbreak as a pandemic.
–
APR 9
– Another 6.6 million Americans filed first-time unemployment claims, bringing the cumulative total to 16 million in three weeks.
WHAT'S INSIDE
– Grocery Store Employees Take on a Heroic Effort
– By the Numbers: COVID-19
– COVID-19 Timeline
– Creative Minds Engage Family Life
– She Has Us "Covered"
– Banding Together While Staying Apart
– When Sports Just Stopped
– Large Corporations Stepping Up
– The New Face of Faith
– and more.
Hard Copy Version
---
Digital Version