Thanks for following my story.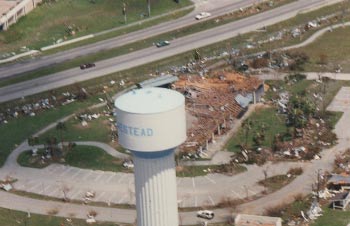 After leaving Coconut Grove, we continued south toward Miami. It was still early, there was very little traffic and the National Guard was nowhere to be seen. It wasn't long before we were at the Miami Herald. Normally the security at the newspaper included a metal detector and security guards. It was almost like being at the airport except you didn't have to take off your shoes. But the day Andrew hit, security was the furthest thing from anyone's mind. As we entered the building, a man with a sleeping bag slung over his shoulder walked past us. I assumed the Miami Herald building was a hurricane shelter.
We made our way to the publisher's office. I was amazed. On a regular day, Matt and I would have had to go through a maze of secretaries and editors to reach the publisher – but not on that day. We were in the publisher's office shortly after entering the building. I wanted to introduce myself and show him the Hurricane Hugo magazine. The result was a collaboration that would help us sell considerably more magazines than we did after Hugo. They loved the idea of publishing an Andrew magazine – so much so that they did their own magazine – though our little Mount Pleasant publishing company beat the Miami Herald with the first Hurricane Andrew magazine on the newsstand after the storm hit South Florida. Path Of Destruction – Hurricane Andrew was on the market considerably earlier than the Miami Herald's Andrew magazine. Sales were brisk and we were proud of our efforts.
[Not a valid template]
On the morning of Monday Aug. 25, the aircraft I had arranged to fly into the Lantana airport arrived. Located just below West Palm Beach, this location would give us easy access to where Andrew made landfall. I was there waiting for the aircraft with great anticipation. What better way to tell the story of Andrew than with some aerial photos of its destruction?
As we made our way to the Kendall-Tamiami Airport, southwest of Miami, I captured hundreds of photos of Andrew's vast devastation. During landing I looked out the window and saw dozens of destroyed planes, with wings and tails scattered on both sides of the runway. We were able to land safely, and the pilot and I got out to take a closer look at the destruction. It was kind of eerie to see all those expensive aircraft demolished by Andrew's wrath.
I soon spotted Manny Allen in the cockpit of a Cessna 411 that had been totally destroyed. As I walked toward him, I could see the inside of the cockpit, and my eyes went immediately to the gun on the seat. When he saw me approaching, he reached for his weapon, so I immediately introduced myself, hoping to make us both feel more comfortable. I listened as he explained his frustration. He had two planes at the airport, and both were destroyed. He had purchased one of the planes the Saturday before Andrew hit. As he explained that he didn't have any insurance, his voice quivered and his eyes watered up. It was an emotional time for everyone in Andrew's path, and I could feel it in Manny's voice as we talked. I wanted to do something that would lighten the moment.
I asked Manny if I could take his photo with his gun. If just for a minute or two, my request took his mind off his wrecked planes. He posed for the picture holding his gun in his left hand and his permit in his right. Then he grew serious again and said, "If anyone tries to get a piece of my airplane, I'll get a piece of his leg."
The Kendall-Tamiami Airport was home to the Weeks Air Museum. Much of what Hurricane Andrew destroyed would be repaired or replaced, but not the rare planes housed in the museum. Among the lost treasurers were a Russian World War II bomber and a Boeing 100. Talking with Manny and Kermit Weeks of the museum, I knew Andrew's wrath couldn't get much worse. Unfortunately, I didn't know what was in front of me.
On Tuesday, Aug. 26, I headed down to Homestead Air Force Base. Each morning before leaving Matt's house, I would make sure to take several copies of Storm Of The Century – Hurricane Hugo with me. This became my calling card. Through the pages of my Hugo magazine, I hoped that people would understand what the Andrew magazine would look like.
When I got to Homestead, I contacted the base information officer. I waited at the entrance of the base, or what was left of it. I introduced myself and handed him a copy of Storm Of The Century. He looked down at the front cover and then back up at me and said, "You should have waited before naming your magazine."
I asked if I could get some photos of the base. We got in his jeep and drove past a couple of demolished hangars that once housed F-16 fighter jets. Just before Hurricane Andrew hit South Florida, all but two of the F-16s found safety at Shaw Air Force Base in South Carolina.
As the information officer and I stood in front of the two remaining F-16s, I couldn't help myself. I just starting snapping photos. I asked the officer what the planes cost, and he said $12 million or so. He said they stayed at Homestead rather than escaping to Shaw because they were unable to fly. My adrenaline was pumping as I took pictures of these mighty aircraft that had been ruined by Mother Nature. I couldn't help but think this was the kind of rush photographers feel when traveling through war-torn countries.
After weeks of taking photos, meeting with writers, organizing photos, choosing stories and designing layouts, we published Path of Destruction – Hurricane Andrew. When the publication hit the street, we were able to do one of the most enlightening, humbling and enriching things I have ever done. We took some of the proceeds from the sale of the magazine and visited some of the families that had lost just about everything to Hurricane Andrew. Many of these families were tired, broken and looking for rays of hope wherever they could find them. We got their names from local church leaders, the Red Cross and the Salvation Army. We knocked on their doors and handed them cashier's checks, creating a little bit of hope in their lives and providing me with a great way to end my Hurricane Andrew adventure.