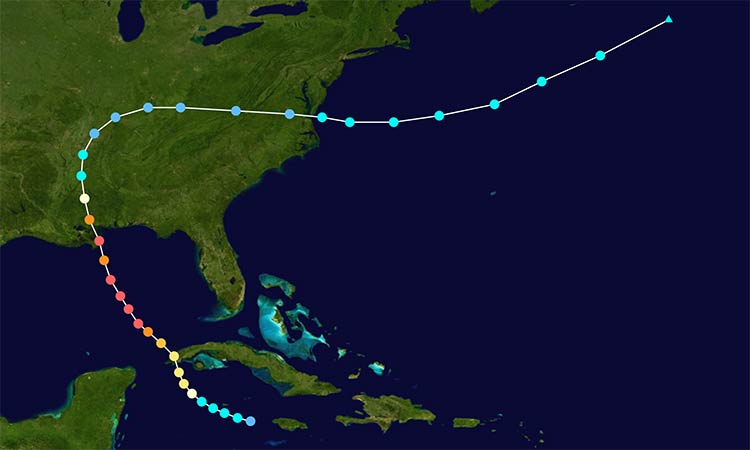 Hurricanes are nothing new to residents of the Mississippi Gulf Coast. Usually families gather – it's almost a family reunion – there is always lots of coffee, cake, everything you want to eta … the waves on the beach being checked … the waiting … watching the winds blow … the rainfall … some sleeping, some awake – but this hurricane – – – Camille – – – was different…
All day Sunday, August 17, long before the rains came, we heard the latitude-longitude, we knew our golden Mississippi Gulf Coast was the target of Camille's 'Eye'.
When a late night radio station advised that the winds were 160 m.p.h. with gusts of 200 m.p.h. – and the winds of nuclear force – – well, the mind cannot comprehend the magnitude of such a force hitting the mainland.
But, waiting silently north of Camille on that night of August 17 was our beautiful Mississippi Gulf Coast – a place of heritage, a place of fun and laughter in the sun.
For six generation families, to many who had only recently moved into anyone of the coast cities – Ocean Springs, Biloxi, Gulfport, Long Beach, Pass Christian, Henderson Point, Bay St., Louis, Lakeshore and Waveland – this is home… and CAMILLE hit.
The devastation on the beach along our once Golden Coast was so complete – – It looked like an abandoned lumber yard. Churches, homes, restaurants, amusement parks, yacht clubs, our area of the land that we love was completely crippled, beyond belief… beyond description… with approximately 200 casualties. (Why there were not more is incredible, but there were man miraculous escapes.
But, all of us know that 'the spirit of God us within you'. – and everywhere the symbol of the strength of this spirit is being shown – where American flags, the flag of our United States, can be seen gently flowing in the breeze, in the front of our churches, attached to posts in front of businesses, and on the porches of homes.