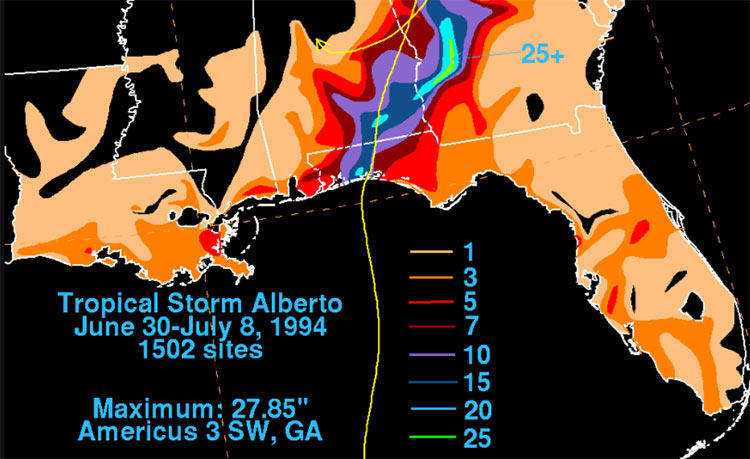 Residents of Macon, GA were among the first to suffer the effects of the Great Flood of '94. The steady rains of the July 4 weekend became a deluge by July 6 as cloud-bursts from Tropical Storm Alberto inundated the area with more than 12 inches of rain in less than 48 hours.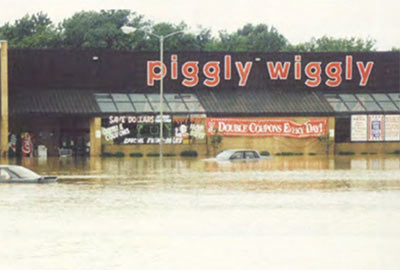 Flash flood conditions prevailed as the swollen Ocmulgee River and its tributaries rapidly reached flood stage. Bridges were qwashed away and dams were overrun or collapsed by the raging waters.
Flood gates at the Lake Tobesofkee dams were blown open and downstream neighborhoods were submerged under torrents of water. Interstates 16 and 75, the main thorough fares in Macon, looked more like rivers than roadways.
The Ocmulgee River crested at 35 feet on July 7 – more than 17 feet above flood stage and six feet higher than the previous record set on March 19, 1990.
Two area deaths were attributed to the flood, and more than 150 homes and 45 businesses were destroyed. At least 150,000 people were without potable water, some for as long as 3 weeks.
Macon Mayor Tommy Olstead called the flood of '94 the worst natural disaster ever.
More Photos from the Great Flood of 1994