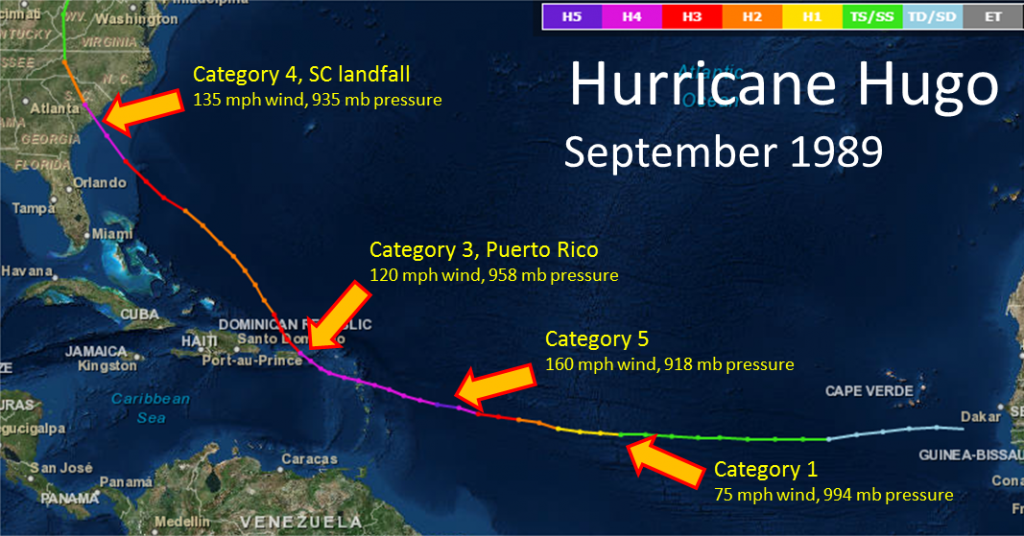 It's 8 a.m., Sept. 25, four days after Hurricane Hugo. Following an all-night drive from Atlanta, I've boarded the harbor-tour boat at Patriots Point for a return to the devastated Isle of Palms. Standing there in a gloomy downpour of rain, we're a ragtag crowd gathered from all points of shelter.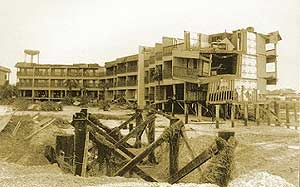 I've run the curfew gantlets, dodged fallen trees and avoided dangling electrical lines. I try to bring my weary brain back into balance, reminding myself: "No, this is not a war. We are not bound for a concentration camp. We are only displaced persons, now on a mission for rejuvenation and renewal."
Could this be a kind of prayer?
This is the first boat to the island and the first time any of us has been able to get back since the storm drove us away. To add another warlike dimension to the scene, we had to give our name, rank and serial number before boarding the boat. That's right – you had to have your proper ID to prove your right to take the "Isle of Palms Clipper."
"Where are you taking us, Captain?"
We receive the disheartening response: "To the only place the boat can berth – the Wild Dunes marina."
It was the other end of the island, opposite of where most of us wanted to go.
Rain blows relentlessly across the dock. The man sitting next to me is an airline pilot who had just come to Mount Pleasant from New York. He wore shorts and a sport shirt and was protected only by an umbrella.
"I didn't have time to find clothes. I've rented out my house on the island for the winter, and I need to find out if the people can move in," he said.
As it turned out, he did not have a house to rent.
We hear voices of hope: "The lighthouse is still standing. Stella Maris Church looks OK. Some places don't look too bad."
We've been on the river for nearly an hour and are just passing Goat Island. It looks as though a water-going street sweeper has passed by, throwing docks and chairs, boats and chimneys, toilet bowls and bookcases all upon the shore. For a mile, the land is littered with household furnishings and debris, while in the background an occasional desolate and gutted dwelling raises its broken body.
Now the scene and circumstances start to become weirder. The ill-clothed and bleary-eyed crowd stands and stares at a bridge, askew at a 35-degree angle, useful now only for a wild, high-jumping water skier.
"How could the wind blow down the Ben Sawyer Bridge like that?" someone asks.
No answer.
As if foretelling the future, a red-bearded man with a cowboy hat says, "The Corps of Engineers ought to be able to raise it and put it back on track."
Up the Intracoastal Waterway, passing Sullivan's Island, the awful fury of Hugo becomes more and more visible. Roofs are missing; houses are sliced in two; one is standing on its side. Where docks stood we could see only sticks poking out of the water.
"My God," screams one lady. "That's where my friend lived!" Her voice dies to a whisper. "No more. It's been broken to pieces."
The landing is now in sight. We pass a graveyard of boats, maybe a hundred or so tossed like matchsticks onto the land. I look at the bigger homes, the ones known as "million dollar mansions." They suffered extensive damage – walls washed away, yards gone.
We hug our rain gear and lift our bags as we move toward the gangplank. The captain's voice comes over the speaker: "This boat will leave at 12 o'clock sharp. You do not want to be left behind. There is no food and no place to stay overnight."
An Isle of Palms City Council member reinforces the warning: "Be prepared for the worst," she says grimly. "There are snakes, streets washed completely away, holes filled with water perhaps 10 feet deep. Gas is leaking on the island. There is raw sewage and dead animals. Keep your hands away from your face."
The dreary group, soaked to the bone, stumbles across the dock. There is probably no transportation. How will we walk from one end of the island to the other and back again in an hour-and-a-half? In these conditions? I admit that I am ready to give up. But then my daughter-in-law, JoAnn, bolsters my sunken spirits.
"We've come too far to give up now," she insists. "Let's walk to Palm Boulevard. Maybe we'll find a ride."
And we did – a pickup truck pulling a flatbed trailer. The gang splashes through the mud and climbs onto the truck. The driver avoids washed out streets by steering into yards and around house furnishings.
We finally come to my house at 4th Avenue.
"Hey," I say to JoAnn. "It looks OK. It's still standing."
We hurry over to question the appearance of normalcy. The question is answered: The house has fallen off its foundation, six feet down and six feet over plants and bushes.
We enter the house over the broken deck and through the sliding glass door that has slid off its track. The fallen chimney is a minor obstruction. A giant named Hugo has vented his wrath, tumbling the furniture into muddy heaps of junk. A 4-foot wave of water has drowned the birds in the cage, corroded tools and appliances and destroyed clothing and upholstery. Utter chaos! I am silent – shocked, numbed and in disbelief.
We pick up a few things, stuff a few mementos into a plastic bag – a family clock, a photo album. Then we turn to leave; there's nothing more to do.
Back on Palm Boulevard, people struggle along the street carrying bags of salvage. One man comes out of a ruin with a cat in his arms.
"She was still in the house. She's all I can save. Glad my wife isn't with me right now – she's pregnant and probably couldn't take it."
We make it back to the marina by noon, taking the back roads this time. The boat doesn't leave as scheduled, and we wait in line for an hour. Later, we feel like celebrities as television reporters ask what we found and how we feel.
Overall, the voyage back to Patriots Point is uneventful, even a relief. We had seen the worst and managed to survive.